Get the most out of each workout with Maxx from HeatXtreme. Maxx is packed full of plant-based ingredients that optimize your metabolism, helping you burn extra fat and get closer to the body you've always dreamed of. Maxx helps you shed pounds, get an all-natural energy boost, and get maximum results from each exercise you do.
Take 2 capsules with a glass of water first thing in the morning to get through a tough day.
Green Coffee Bean Extract, Caffeine, L-Theanine, Coleus Root Extract, Salvia Root Extract | Extracts from green coffee contain chlorogenic acid, a molecule with antioxidant and anti-inflammatory effects. Chlorogenic acid can also support heart and liver health. Green coffee extract also improves fat metabolism and helps people attain a healthy weight.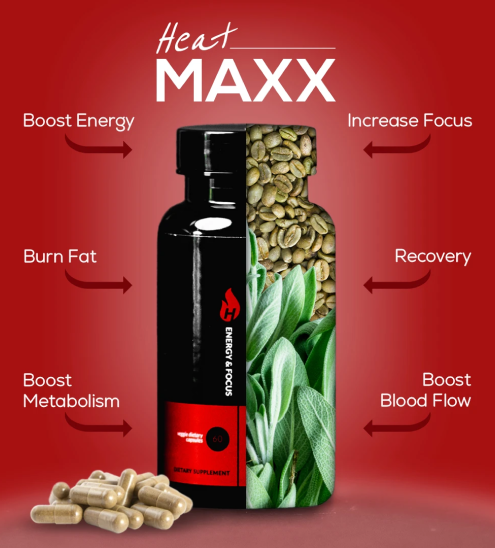 BENEFITS
Benefits
If you're putting in the work, make sure you see the results. Maxx pushes your body to use fat as fuel, getting you to your body goals more quickly.
Recovery
Maxx boosts blood flow to your muscles after a tough workout, helping them heal faster so you can get on to the next one. It also fights post-workout inflammation, easing muscle soreness.
Energy
Maxx contains 125 mg of caffeine, helping power the toughest of workouts. Other all-natural ingredients provide alertness without making you feel shaky, giving you exactly the amount of drive you need.
Same Day Shipping
Order before 12 PM and we
will ship the same day in USA.

Satisfaction Guaranteed
We only use the highest quality
ingredients!

Easy Returns
Our customer services rep will
make the process easy!
3 Day Trial
Subscribe today and get full
access H.E.A.T On Demand!